Tamshaly valley
Kazakhstan Nature National Parks. Kazakhstan recreation zones. Kazakhstan Regions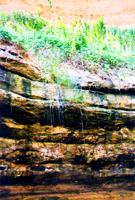 Not far from Aktau, 35 km from Fort Shevchenko, one can visit a little corner of Paradise called Tamshali, which means "merry thaw" in Kazakh. This is a valley covered with willow and poplar trees. A lake with blackberry and mint bushes on its shores can also be found here.
Water seeps out from under a wide stone platform in the shape of a cornice and drips onto a stone. Here you can hear the legend of the Weeping Stone.
It is possible to reach the spring by walking through the canyon or along a precipice, which consists of various colored types of minerals.
The colors have faded under the blazing sun and their brightness has dimmed. Suddenly, in front appears a big green spot. It comes nearer.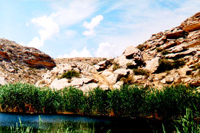 One lone tree appears, then one can see two little reservoirs, and thickets of cane and mint. Water droplets cascade from rock overhangs, like thousands of tear drops. Many shining transparent streams create the silver curtain of a fantastic theater.
It seems that the rock whispers "Tamshaly, Tamshaly".
It is cool and calm here. Tamshaly is indeed a unique and rare place. Let us now hear the legend of beautiful Meret.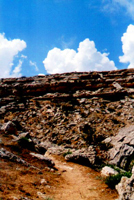 She was a rich Turkmen Han's wife. He wandered with his herds along the peninsula. Meret's husband was an ill old man. Soon he died and a high mazar (tomb) was built in his memory. The widow grieved for her husband, cried and reluctantly resumed working. Summer that year was very hot and dusty. The wind was dry. The people were in agony.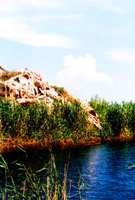 The animals were parched and thirsty. Horses and camels failed to produce milk. It seemed that death was hovering over the steppe.
Beautiful Meret wondered why she couldn't take water from Sai, who was hiding his roots from everyone. She decided to make a path along the black rock herself. She found the masters and promised them a good reward. Han's rich relatives were afraid that Allah would punish Meret for her impudence.
However, the brave woman decided to make a path to the rock and take water to the herds. She thought, if people weren't thirsty, the whole village would be happy. Kymis and shubat will return strength to the men and fortitude to the women.
Beautiful Meret was quite right. The wind blowing across the land rustled the canes and leaves. The watermelons and tomatoes ripened on the small plantations just from hearing the Tamshaly droplets.