Tour around Big Almaty Lake
Tours near Almaty cities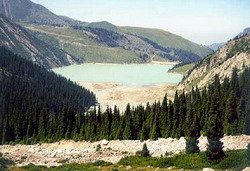 Request for tour price & booking >>>
Seasons: Year-round
Distance: 40 km
Length: 10 hours
Equipment: sport shoes and clothing.
Departure at 9.00AM. One way journey time is 2.5 hours, which includes a visit to the mudslide check dam in the canyon of the river Bolshaya Almatinka, bearing the traces of the last major mudslide.
The mountain lake (2,510m) set in a valley 25 km outside Almaty, is like a shining mirror, surrounded on all sides by magnificent peaks. The lake changes color depending on the season - from pale green to turquoise blue.

It is 1.5 km long and 35 m deep. Above the lake on a ridge are the Tien-Shan Astronomical Observatory ( 2,700m) and a space observation station (3,300m), where you can stay the night and gaze up at the stars.
Return time: 19.00.