Karagie Depression
Nature of Kazakhstan. Kazakhstan recreation zones. Regions of Kazakhstan
The Karagie Depression (translation from Turkic "The black mouth"). Our depression attracts many travelers. All who has been lucky enough to visit the Mangishlak peninsula, are obliged visit this unusual place. Karagie is the third deepest depression in the world at 132m below sea level.
It gives refuge to many species of animals which can be found nowhere else. Here we can see springs, which are full of water and attract attention with their blue color and white saline rim. Here there are rocky deserts similar to the Gobi , desert with various kids of vegetation, a shrubby kind of desert with a great many tamarisk trees , and drifting sands.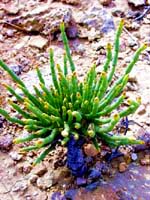 It is said, that a very long time ago, in this place existed a lake named Batyr - "The brave warrior". Then the depression formed. Its length is 40km, and width - 10km. Formation of the depression has been connected with the process of lixiviation of saline rock, subsidence and karst processes, which took place on the coast of the Caspian Sea.
Here and there the slopes of hills have been pitted by rodents - gophers and jerboas. Birds of prey soar overhead. Small and big "evil spirits", types of locusts, scarab beetles, and scorpions - these aren't news on our peninsula, in its entire splendor . And of course, various birds, which feed on such insects, call this place home.
There are partridges, giant lizards, snakes, tortoises, wildcats, caracals, foxes, hares, and corsacs.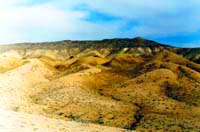 Kazakh scientists have conducted investigations into the depression. It turns out that the almost waterless Karagie depression is natural generator of cumulonimbus clouds. Cumulonimbus form as a result of air ascending in the summer. This is shown by ground observations and satellite photographs.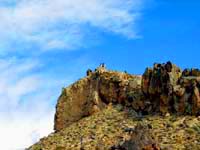 Groundwater has gradually dissolved rock, and opened deep and narrow precipices. The walls of such fissures have widened and created huge craters and caves. When the caves opened up, the ceiling and walls broke down. This process has recurred many times.
As a result, huge interstices have formed, which have filled up with slabs of rock: craters, blind valleys, recesses, grottos, narrows, and natural shafts have appeared. In this way the Karagie depression developed, until it received its modern contour. These processes haven't stopped, the precipices and ledges testify to that.