Tour around Ili river and Tamgaly-Tas
Tours near Almaty
Request for tour price & booking >>>
Drive via Kapchagay city and reservoir to the Ili River, with views of the reservoir. Upon reaching the Ili River, the largest in South-Eastern Kazakhstan, excursion to Buddhist rock-paintings in Tamgaly-Tas - a spot also frequented by rock-climbers. Picnic lunch near the River.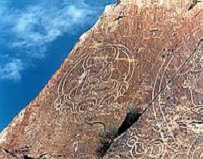 Afternoon return to Almaty.
The Ili River, one of the largest in Kazakhstan, flows from China, beginning in the Eastern Tien-Shan with the Tekes and Kunges rivers. Its length, starting at the inflow of the Tekes River is 1,439 km, 815 km on Kazakhstan's territory. Flowing into Lake Balkhash, it forms an immense delta with vast wetland regions of lakes, marshes and jungle-like vegetation.
The Kapchagai Hydroelectric power station was built between 1965 to 1980 in the middle reaches of the Ili River, forming the Kapchagay Reserve. Tamgaly, some 20 km downstream along the Ili River is well known for its petroglyphs. The name Tamgaly in Kazakh means painted or marked place.
There is good easy rafting on the Ili beyond the Kapchagai water reservoir where the river flows in a deep rocky canyon, up to 200 meters wide, providing good conditions for category 1 rafting. The river in this part is full-flowing with a rapid current and clear water. The canyon is about 100 meters deep and there are several small islands along the way. The flow in summer varies from 150 to 250 cbm. Starting in May the water in the river is warm and there is good swimming and fishing.
We hope you like the program and assure you that we are absolutely open to any suggestions to increase the range of our services for the entire satisfaction of our clients and are happy to meet your special requirements.
You can alter the duration of your tour and places of visits by adding one of the extensions. Our tour operator will work closely with you or your travel agent to carefully prepare an itinerary based on your stated interests.
Request for tour price & booking >>>