Tour to Aksay Cell (Monastery)
Daily Tours in Almaty province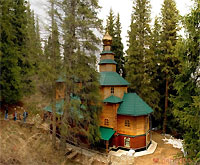 Duration: 8-10 hours
Distance: 25 km
Tour departs: 09:00
Bus: PAZ, Toyota (25-27 pax)
Bus ride : 1 hours
Days: every Sunday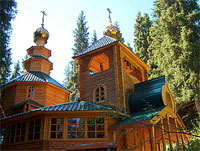 Description: 20 km west of Almaty, in Aksay Canyon, on the territory of Ile-Alatau National Park on the mountainside of Kyzyl-Zhar canyon (in Kazakh -Red Cliff) was built a monastery - an ortodox religious centre.

First thing you'll see is a gravestone which says: "Celibate prists Serafim and Feognost, martyrized 29 July - 11 August 1921". Higher on the mountainside - chapel, nearby - household facilites, refectory and a modern two-storied cottage - prist's house; further - springs, the water of which is considered consecrated, several tumbledown caves, where the celibate prists lived and the church itself - graceful temple built of larch specially brought from Siberia, of warm yellow color, with two domes of different sizes that look very harmonious with the tops of huge Tyan-Shan fir-trees.

There is another interesting place to see in Aksay Canyon besides the monastery - Ak-Zhar (in Kazakh - White Steep) landslip. These you will find traces of catastrophic earthquake of 1887, when there was an immence landslip in the neighbour canyon. Scientists say the volume of talus was approximately 40 millions cubic meters!

We believe you will love the excursion and will keep memories of beautiful and silent world of the mountains for a long time.

Request for tour price & booking >>>

We hope you like the program and assure you that we are absolutely open to any suggestions to increase the range of our services for the entire satisfaction of our clients and are happy to meet your special requirements.

You can alter the duration of your tour and places of visits by adding one of the extensions. Our tour operator will work closely with you or your travel agent to carefully prepare an itinerary based on your stated interests.